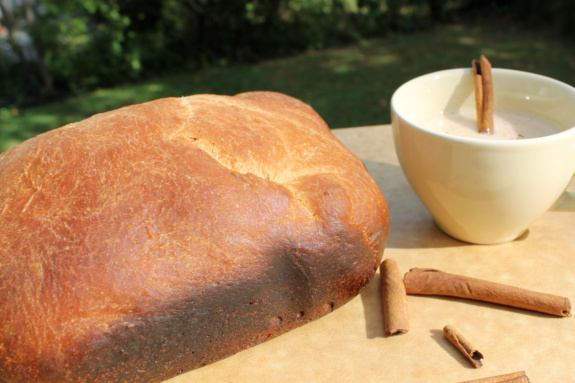 My friends at So Delicious sent me (and other vegan food bloggers!) samples of their latest fabulous holiday products.
Today I'm very excited to share their Coconut Milk "Nog"–because I'm participating in the Vegan MoFo Iron Chef Challenge #3 … the secret ingredient is coconut!
I decided to make a loaf of bread with it.
JL's "Eggnog" Bread
PRINT RECIPE
Ingredients
3 T coconut oil
1 t Florida Crystals natural sugar
1.5 t iodized sea salt
1/2 t ground cinnamon
1/2 t nutmeg
2 c better for bread flour
1/2 c vital wheat gluten
1.5 t active dry yeast
Instructions
Add all ingredients in a bread maker (you may want to spray the pan with vegetable oil), in order listed, and bake on whole wheat cycle, small loaf.
Hmmm….
…so tasty!
The bread does not taste like a big 'ole loaf of eggnog.  The flavor is subtle and isn't really a sweet bread at all.  The "nog" as a drink is dreamy!  So smooth, creamy and flavorful! You can bet that I'll be purchasing a few quarts of this "nog" over the next few months.
Are you an eggnog fan?